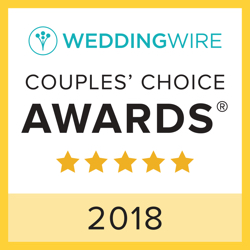 There is nothing more motivating than receiving a review that makes me want to continue challenging and bettering myself in the vast and saturated field of photography. I am so glad that my little girl came along when she did, or I would be sixty-hours-per-week, ears-deep in blueprints! Instead, I'm meeting awesome people like Emily and Zach and Felicia and Devon, and capturing their most precious moments!

Here is the blog post from Emily and Zach's wedding:
http://www.bartendingandphotography.com/blog/you-have-not-seen-fun-till-youve-seen-the-chaffees

​"I cannot even begin to explain how happy I was with FireRose photos and Cassie in general.
Her pictures were professional, beautiful and most of all, fun. She showed her professional side with always being on time and prepared. The day we first met her, she came with her computer to show sample pictures and documents that we were able to go home with if we had further questions. On the day of the engagement photos, she arrived with many different poses and shots that she loved and that I had requested. She was able to pose us without looking posed. She showed her fun side by laughing with us and making jokes, all of which led to my husband and I being very comfortable with her.
The most amazing part of all of the work she put in was on the actual day of the wedding itself. She did not put the camera down at all. She took over 1000 pictures and sent me EVERY SINGLE ONE. A month later, I am still looking through the pictures finding new favorites. During the wedding, I had several guests comment to me how hard she was working.
Overall, I highly recommend Cassie to anyone looking for a photographer. I am excited that I now know someone who I can always count on for beautiful, professional photos (newborn pics soon?? hopefully!!)
~Emily and Zach"

Here is the blog post from Felicia and Devon's wedding:
http://www.bartendingandphotography.com/blog/going-to-the-chapel

"Is it possible to give 10 stars? My husband and I were beyond satisfied with the service and pictures produced by Cassandra with FireRose Photography. We hired her because of her area of expertise, photojournalism. FireRose Photography truly made our wedding stress free. All of our questions were answered in a timely manner, whether through email or phone, thanks to the awesome owner Cassandra.
Cassie scheduled appointments for our motorcycle themed engagement shoot and bridal shoot. She arrived before start time to set up and was well prepared with a list of shots to make sure that she captured for us. She made us feel comfortable, and believe me, we are the most awkward people in the world. Additionally, she is very easy to work with and was so much fun getting my bridesmaids involved in the pictures. This was so much fun.
We received 98 still images for the engagement shoot, which was amazing in less than a week. Cassie, thank you for the photo shop, I looked amazing. =) She was very creative with this and went downtown Raleigh on her own time to locate shots for this shoot. She found a wall that had "Hold My Hand" spray painted on it. This was a perfect touch to a picture we got. For the Bridal Shoot, we received 97 still images in a week. Even though this was a rained out shoot, Cassie worked with the weather and still made this experience one in a lifetime. As I was very impatient awaiting the photos, she worked very hard and produced them before she originally said they would be ready. When we received the 834 still images about one week after the ceremony through Fire Rose Photography website, we were blown away by the photos. The images consisted of the perfect mixture of photographic styles. Additionally, Cassie truly utilized our surroundings to capture some awesome images--a stained glass window on the balcony within the chapel, my daughter and I walking down the sidewalk and an image of my mother in the side of the limousine are just few of the many awesome shots she was able to capture. I truly recommend Fire Rose Photography services to anyone, and I will begin to schedule my next photography session soon!
Thanks to the best photographer, Cassie with Fire Rose Photography. You are truly AMAZING!!
~Felicia and Devon"